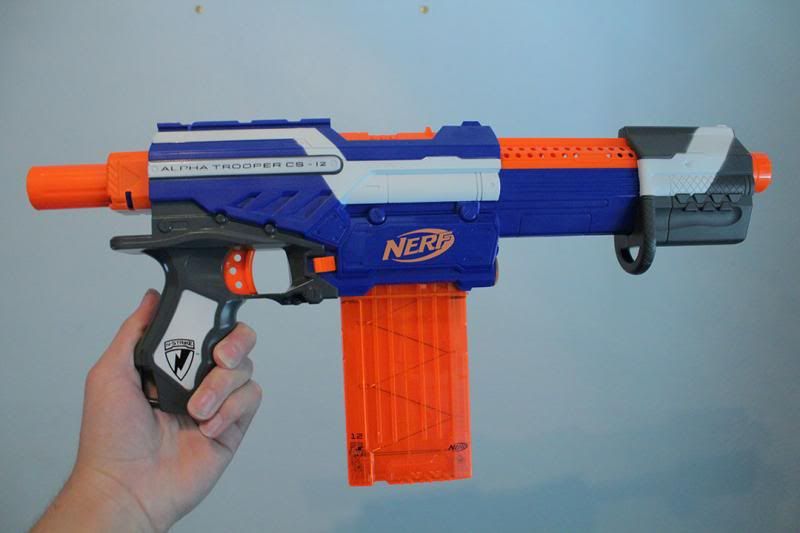 With everyone seeming to get their hands on EAT's, I felt like for those who have been unable to find them at their targets should have a chance at one as well. That's why I'm doing a giveaway for one Elite Alpha Trooper. All you need to do is leave a comment on this post, and next Friday, May 10th, 11:59 PST, I'll pick a winner at random, contact them via google+ or youtube and ship one to them. It's just that simple, commenting on the youtube video and subscribing to the channel will net you an extra entry as well.
I thought I'd do a quick range test before work since I wanted to play with my EAT for a bit. The results weren't bad, shots averaged around the mid 50's, with some shots bouncing off the wall. This is by no means comprehensive, I just wanted to show that I do have them, so that people wouldn't be worried about this not being legitimate. I plan on having a full review up of the EAT by early next week.
Recap of Requirements for Giveaway -
- Live in the USA (sorry, shipping costs)
- Comment on this post, or subscribe to my youtube channel and comment on the giveaway video.
- You may do both for 2 entries.
- Winner will be picked at 11:59pm PST Friday May 10th and contacted shortly after. If I do not hear back from you in 2 days time, I will pick a new winner.
Check back for updates!
Good luck!